On the Record #33 - Timmons Votes $40 Billion for Ukraine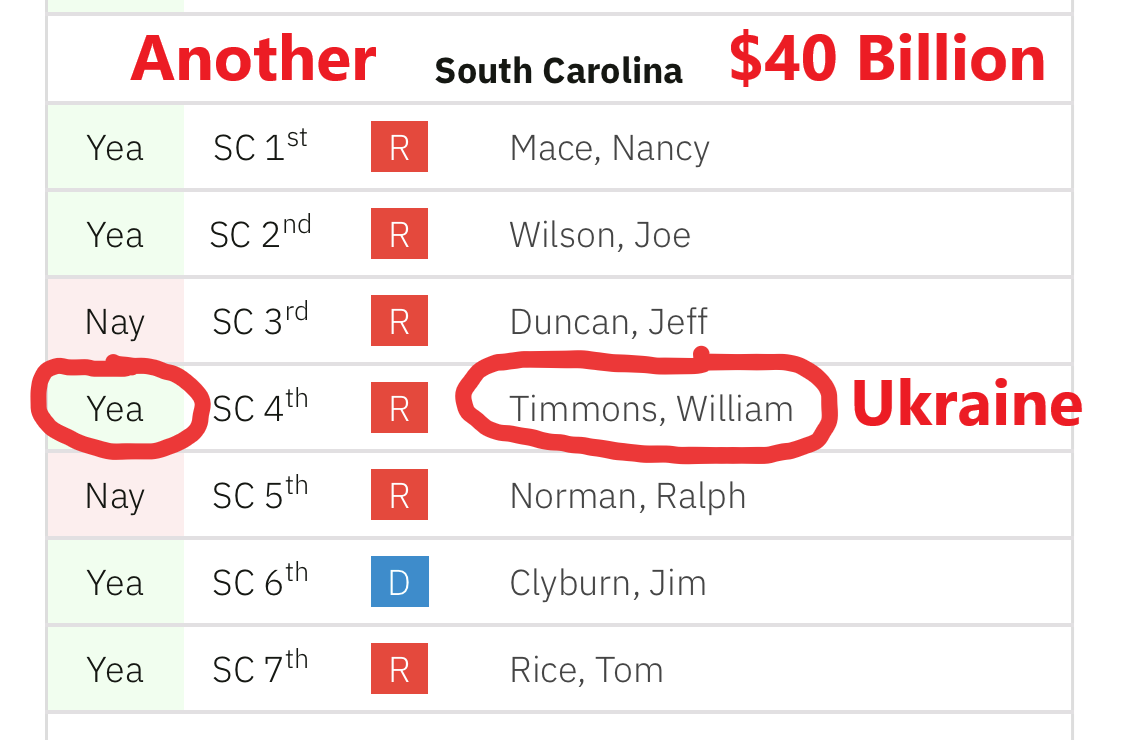 Timmons Votes $40 Billion for Ukraine
In yet another example of his RINO voting behavior, William Timmons votes for another $40 Billion for the Ukrainian dilemma. As real conservatives, Jeff Duncan and Ralph Norman each voted NO to this disastrous bill that further puts us in debt.
This bill is NOT about protecting America's national security interests, this is simply about getting America deeper and deeper into a prolonged and protracted war. The Marxist-Socialists think that somehow/someway that involving us in a WWIII like war will protect their power base and avert losses in the midterm and presidential elections.
The Marxists-Socialists are delusional. Come November, Biden is a lame duck. END OF STORY!
Timmons once again fell for the RINO bate.
First, he votes YES to ½ of the $1.5 Trillion Consolidated Appropriations Bill to the tune of $850 Billion because he was sucked into the Biden Ukrainian EMERGENCY trap. Half the bill was military, and the other half was nonmilitary (pork). There was $13.6 Billion in emergency aid for the Ukraine.
How could TIMMONS vote for a bill that he couldn't even read? In the Upstate of South Carolina William Timmons is the RINO thorn between 2 conservative roses (Duncan + Norman).
Timmons just doesn't fit in or share our conservative UPSTATE (District 4 - Greenville and Spartanburg) values.
VOTE Mike LaPierre for U.S. House
SC District 4 – Greenville and Spartanburg Counties
I LIKE MIKE
Add your news summary here.