Timmons Has VERY HIGH Absentee Rate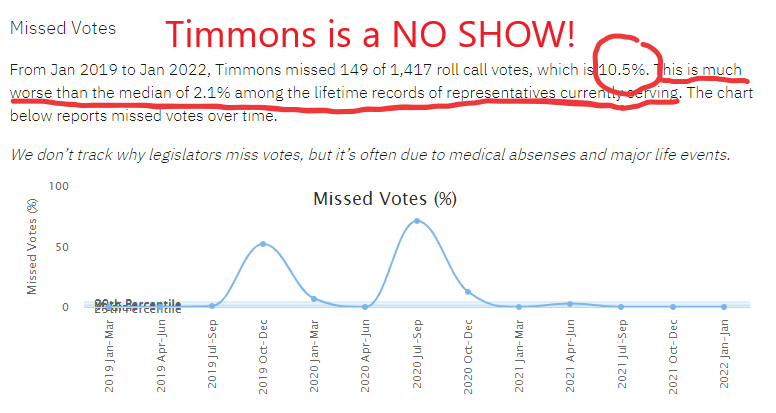 BREAKING NEWS:
Congressman William Richardson Timmons IV is not showing up to work in Washington DC. He has one of the HIGHEST absentee rates in all of Congress.
Since Timmons works for the people of District 4 - Greenville and Spartanburg Counties, that means he
squandered away 149 of your hard-fought VOTES.
Instead of fighting the Marxists, creating much needed legislation, and using the bully pulpit to sound the alarm, William Richardson Timmons IV decided to go back to school while on the taxpayer's dime as your congressman to get a Master's degree. This has resulted in one of the HIGHEST ABSENTEE RATES in all of Congress.
Does this brazen move sound like an elitist professional political operative to you?
In the 116th Congress, Timmons absentee rate was over 15%
In the 117th Congress, Timmons has a cumulative absentee rate of over 10%
He blames his military service. No so fast William Richardson Timmons IV, not so fast. I just called the Air National Guard Recruiting Office and was told that you can work around their two week summer commitment. Since Congressional votes are taken primarily Monday-Friday, it appears that you have been lying about the military as the cause for your NO-SHOW in Congress.
You should have scheduled your military service around your congressional calendar and honored your FIDUCIARY RESPONSIBILITIES. Instead, you failed to live up to your commitment to the United States House of Representatives. The recruiter said it applies to both enlisted and the officers.
Vote Mike LaPierre for Congress